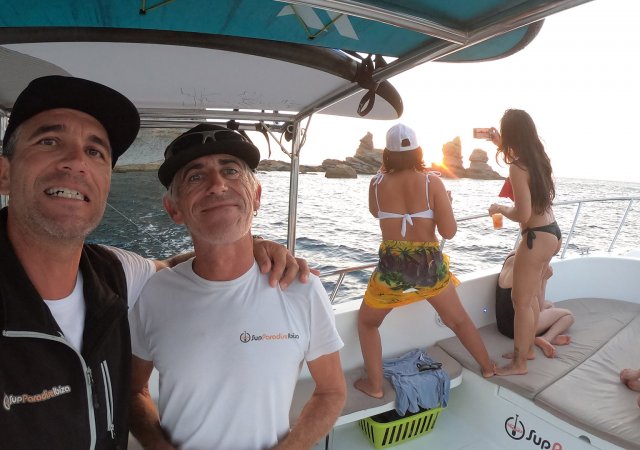 At SUP Paradise Ibiza, our lives are closely connected to the sea and island. From his very first trip as skipper at 6 years old, Rubén Marí, founder of the project, has been a part of the maritime world in many different ways, from boat restoration to sea sports. He knew from a young age that his life would be inevitably tied to his passion for the sea.
At just 14 years old, Marí began to sail through Ibiza With his first restored boat without a motor and experienced all kinds of adventures. When he was 20 years old, he became a professional and began to work on all types of boats at boatyards with repair and maintenance companies, and landed a job as a skipper on luxury boats.
In 2000, after acquiring a damaged boat, Marí dedicated several years to restoring it, always with the idea of develop a Stand Up Paddle project, a sport that hadn't become popular yet in Spain. During those few years, he carried out many exciting projects like the restoration of the Marenostrum which, despite the difficult starting point, became a success and a dream fulfilled. This is just one of our maxims: passion always triumphs.
In 2008 we started Stand Up Paddle in Ibiza and were the first to catch a wave on the island. Little by little, we spread our passion and excitement for this activity and provided our visitors with an experience that's so much more than just paddling. We were finally able to bring Stand Up Paddle to Ibiza. It's a sport that fits perfectly with the island and the reason why we want to keep on paddling. Are you with us?