Description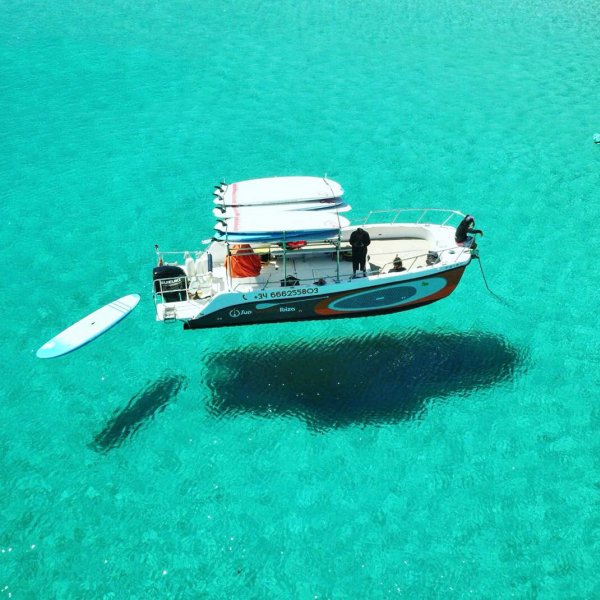 Our boat is one of our hallmarks. We've designed it with visitor's maximum satisfaction in mind and based all of the details on the needs a lifetime of dedication to the sea and boat restoration has taught us. Our years of previous experience with Sup Boat Ibiza allows us to know perfectly which aspects must be taken into account to create an excellent boat of this nature.
Our boat combines everything necessary to offer our customers an incomparable experience as far as comfort, navigability and professionalism. It features three hulls that provide great stability and little depth, offering a completely stable navigation and the ability to reach some of the most inaccessible corners of the island. The boat has a 300-horsepower engine that allows for a very comfortable crossing at a cruising speed of 18 knots and can reach a top speed of 35 knots.
Our boat also provides different spaces to offer comfort to all visitors. This includes an appetizing sundeck at the bow and a keel that serves as a pleasant shady area and place to transport the boards. In our mission to adapt to all levels, the two aft platforms are perfect for easy access from the sea.
The construction was carried out after a meticulous search process for the most suitable shipyards. OLBAP, the company in charge of the work, was so fascinated with the design that they have begun to manufacture it in a series known as TR8 SUP PARADISE IBIZA, something we are very proud of.